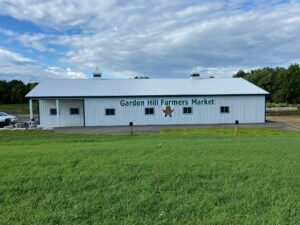 Garden Hill Farmers Market has been bringing fresh local fruits and vegetables to your table for more than four decades.
Will and Bonnie Aiken knew the value of fresh produce. They established a 40+ year tradition of offering the very best that the local area has to offer.
In 2013, Jamie and Kristin Ferguson took over this challenging and rewarding task, growing over 50 acres of produce in the hamlet of Garden Hill, Ontario.
 Today we grow 150 acres and employ a dedicated team of staff to bring you the best we have to offer – we're honoured to follow in the Aiken's footsteps as Ontario and local proud food producers. 
In 2023 we moved into our new market and u-pick farm. In our new commercial kitchen you will find us preparing, cooking and preserving our produce fresh out of the fields. Our new 5000sqft market and bakery will provide you a one stop shop, a place to relax with a cup of coffee or a freshly prepared soup and sandwich or pick berries and enjoy an ice cream with the family.
The majority of food we sell is actually grown and produced by us so you can be assured that our produce is as fresh as possible. We've also partnered with several other Ontario producers to provide a full selection of meats, vegetables and fruits as well as preserves, jams, honey, maple syrup and artisanal home goods.
Our growing year opens in the spring when we sell our own greenhouse grown transplants and begin the harvest with asparagus and rhubarb and moves into summer with strawberries, lettuces, peas, beans, onions, potatoes, corn and more. In the fall you'll find a large selection of squash, pumpkins, straw and ornamental corn.
We'd love to share our fresh local produce and goods with you. Come visit us at our new Garden Hill location  or visit us at the Port Hope Farmers Market and Millbrook Farmers Market